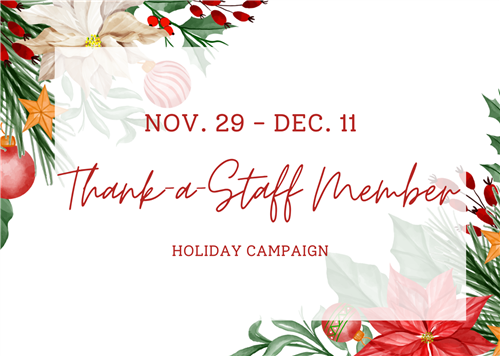 CAMPAIGN CURRENTLY CLOSED!

HOLIDAY CAMPAIGN

LET US TAKE CARE OF YOUR HOLIDAY SHOPPING FOR THAT SPECIAL LINDBERGH STAFF MEMBER.

You can make a donation to the Lindbergh Schools Foundation, and

the Foundation will deliver a poinsettia, personalized card, and/or gift cards to the Lindbergh staff member of your choice. Let us take something off of your holiday to-do list.

You can choose from several options (or mix and match as you choose). All gifts will be delivered with a personalized card to the Lindbergh staff recipient of your choice.

Deliver a poinsettia - $15

Deliver a $25 gift card to Pasta House, Liliana's, or Bar Louie

Deliver a $50 gift card to The Face and Body Spa

Poinsettias, cards, and gift cards will be delivered December 14-16.

Orders must be placed by DEC 11.