4th Annual Lindbergh Schools Foundation Community Breakfast: Nurturing Possibilities, Cultivating Success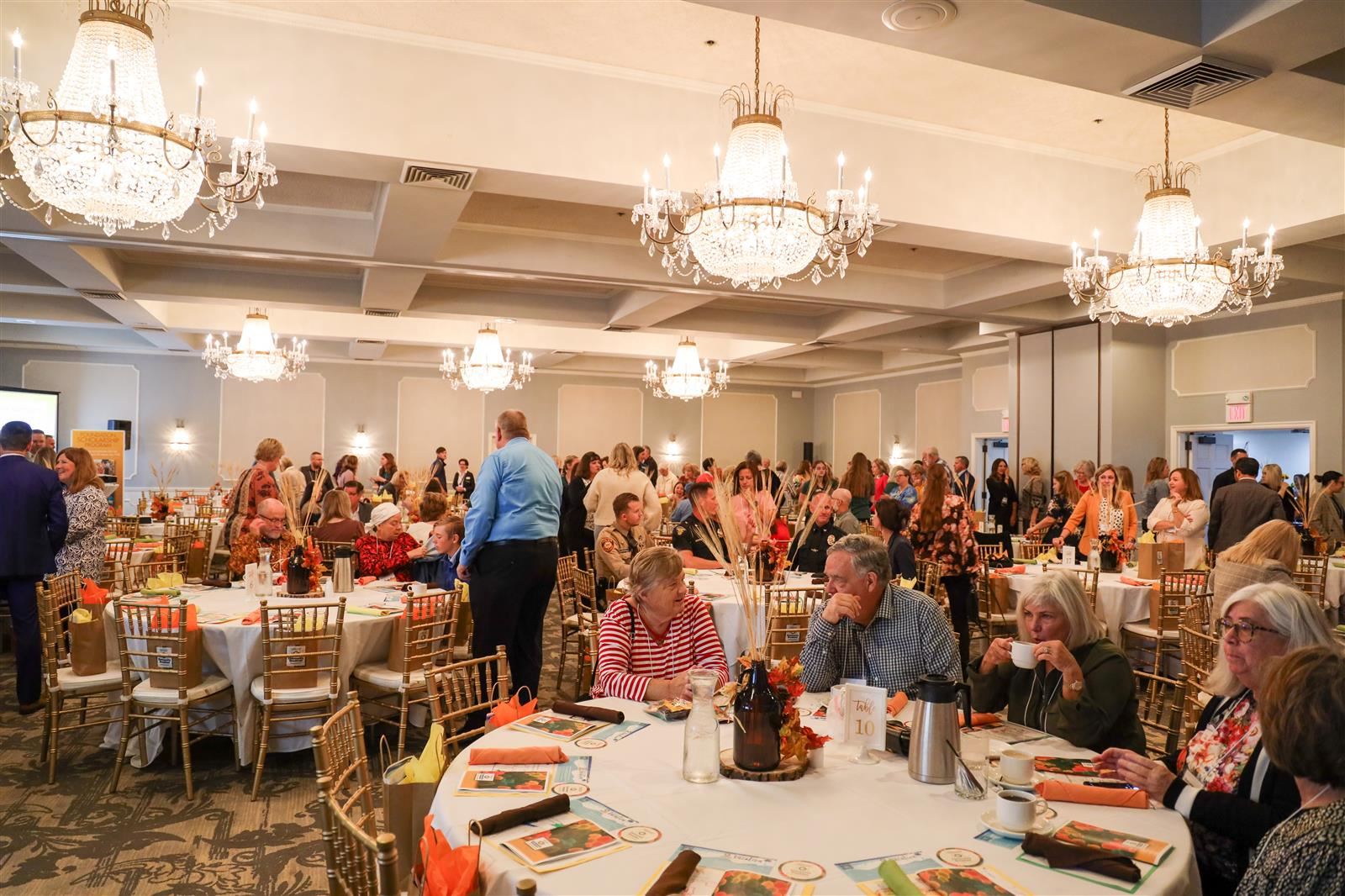 Date: October 27, 2023
Every year, "WE ARE THE ROOTS" – a community dedicated to nurturing possibilities and cultivating success. The Lindbergh Schools Foundation hosted its 4th Annual Community Breakfast on October 27th, which proved to be a resounding success with a remarkable turnout of 245 attendees. This event, devoted to nurturing possibilities and cultivating success, featured delectable cuisine, flawless student participation, and took place against the backdrop of a stunning venue.
The community's generosity, demonstrated through sponsorships, direct donations, ticket sales, and in-kind contributions, resulted in an anticipated gross profit of $83,580 from the breakfast. These funds will be thoughtfully allocated to support various programs, including the Alumni Association, Lindbergh Lights the Way, Lindbergh Retired Educators, Foundation Innovation Grants, Lindbergh High School student scholarships, and more.
A momentous highlight of the morning was the introduction of the Dr. Mary Louise Zieger Scholarship, a groundbreaking initiative for both Lindbergh and the Foundation. Dr. Mary Louise Zieger bequeathed nearly $1.7 million to the Foundation to make this dream come true. Her wishes were for the interest earned on her endowment to be given each year to a student going to college to study to become an educator. This will be a perpetual scholarship – one that will continue giving for many future generations of teachers. To learn more about Dr. Mary Louise Zieger and the scholarship in her name, please watch this touching video.
Another special moment during the program, an annual tradition since 2019, is the creation of the Lindbergh Schools Foundation Above and Beyond Award. This award is given annually to a business or individual for their exceptional commitment, generosity, and support of the Foundation's mission to advocate excellence in all facets of education at Lindbergh Schools.
Our President, Steve Young, shared a heartwarming story about a particular recipient of the award. He mentioned, "One of my first phone calls back in 2018 when I started my job here was from Commerce Bank. The person on the other end of the phone was calling to say they wanted to give to our grant program. I was shocked, surprised, and excited – how did we just receive a large donation without any outreach? I got off the phone and looked up Commerce Bank in our donor data system and found that they had been giving yearly since 2008 to many of our different programs."
Over the last five years, Erica Keating, our Executive Director, continued to receive many phone calls and checks from Commerce Bank. Their unwavering support is evident throughout the Lindbergh community, with their logo displayed prominently, from Lindbergh High School athletics scoreboards to the programs of our recent Community Breakfast.
Commerce Bank stands as a true supporter of the Lindbergh Community, and their consistent and generous contributions have made a profound impact on education in the district. Congratulations to Commerce Bank, and thank you so much for everything you do to advance the mission of the Lindbergh Schools Foundation. Your commitment and generosity have truly gone above and beyond, making a significant difference in the lives of our students and educators.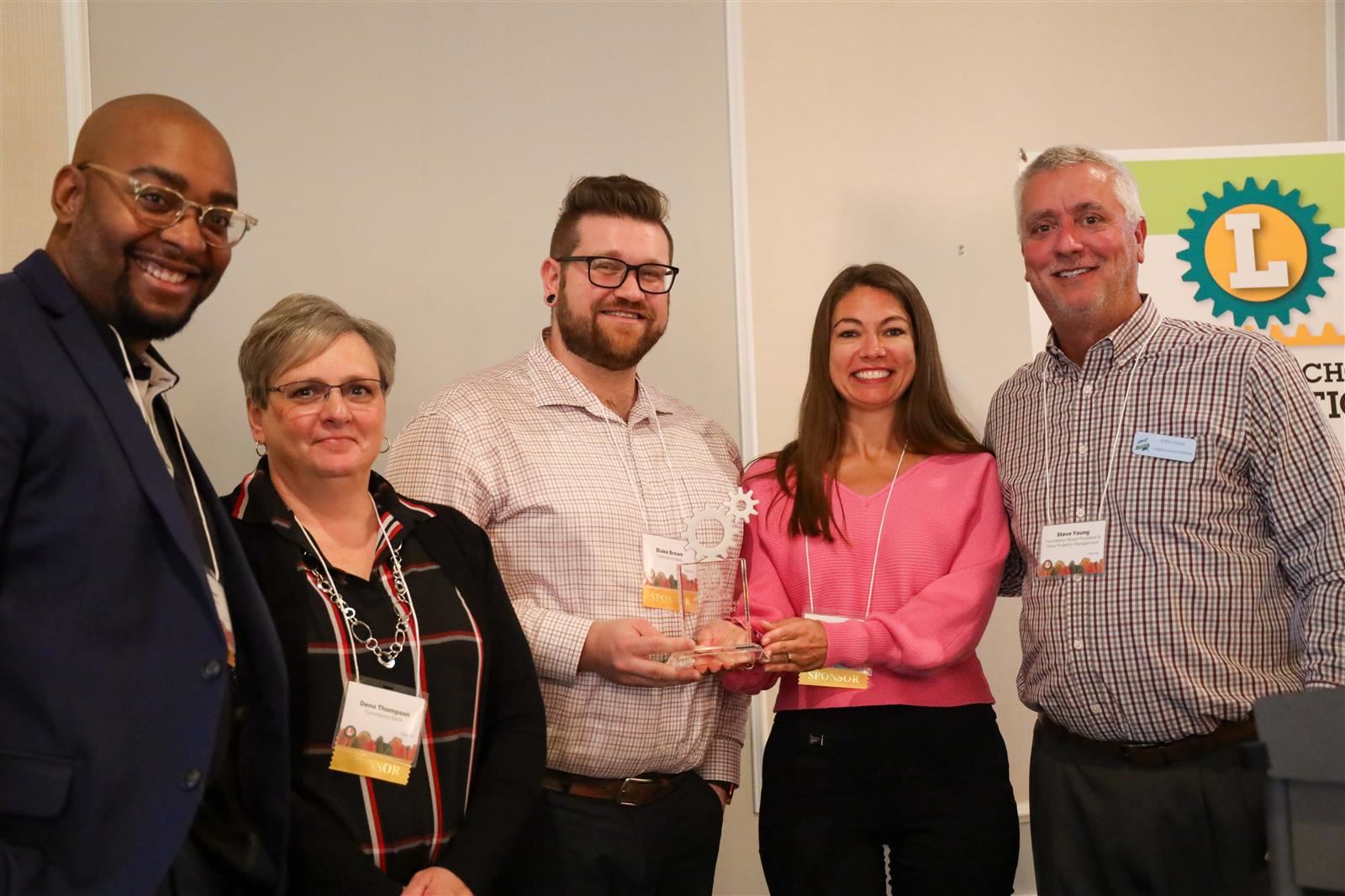 Photo: Commerce Bank honorees include: (L-R) Justin Miner, Dena Thompson, Blake Brown, Jodi Clinton, and Lindbergh Schools Foundation President, Steve Young.
To all who attended, your presence was pivotal in making this morning truly special. Your support is a cornerstone in our mission to foster a united Lindbergh Community. As we bask in the success of this event, we eagerly anticipate welcoming you to future Foundation events. Thank you for being an integral part of this memorable occasion, contributing to the ongoing journey of nurturing possibilities and cultivating success in Lindbergh Schools.