Interested in Joining the Foundation Junior Board?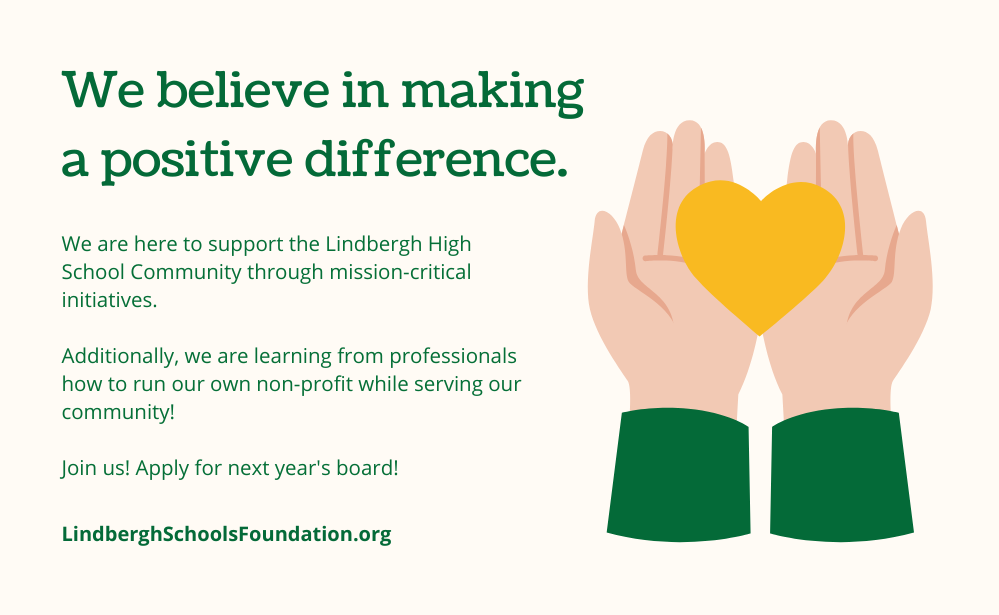 Junior Board Applications are NOW Open for the 2023-2024 School Year. Apply by Tuesday, April 4, 2023.

The Lindbergh Schools Foundation Junior Board Application can be found here.

How to Join:

Do you have a heart for service? The Lindbergh Schools Foundation is seeking applicants for the Foundation Junior Board. To join, you must be a current student in grades 8-11. All students must fill out the application by Tuesday, April 4, 2023. Below, students can review all the required events and meetings they must attend.

Requirements for Board Members:

Represent the Junior Board well in conduct and academics

Attend the monthly Student Ambassador meeting

Attend the Summer retreat (in July)- if a conflict arises, discuss with Junior Board Advisors

Attend one Lindbergh Schools Foundation Board Meeting during the year

Join One Board Committee (Fundraising, Volunteers, Public Relations)

Work with the committee to host at least one event a quarter

Plan and/or attend fundraising events

Engage with the Junior Board social media accounts

Other Responsibilities:

Participate in decision-making on issues, goals, and objectives.

Participate and engage in appropriate committee communications.

Participate fully and openly in meetings. Share insights, ideas and suggestions.

Provide constructive feedback. If possible, suggest an alternative course.

Carry out all delegated assignments promptly.

Stay informed about what is going on in the organization. Ask questions and request information.